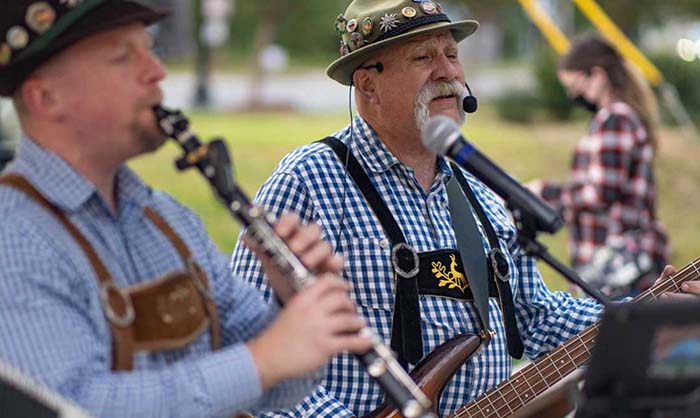 The Mountain Top Polka Band (MTP) is a high-energy band that celebrates German heritage through music and dance. Since 2009, MTP has performed in six states around the south and southeast US.
MTP presents polka music, German rock inspired pieces, Oktoberfest party tunes, and Scots-Irish songs.
Whether playing for large festivals or small events, members of the Mountain Top Polka Band strive to entertain and connect with audiences of all ages.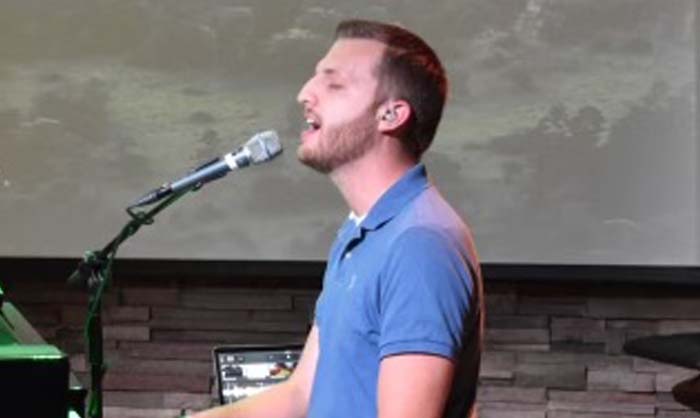 Ricky discovered his gift for singing at 14 and performed in his community until college. He received a bachelor's degree in music with an emphasis in voice from the University of Louisville.
For two years, he worked at the American Music Theater an 1,800-seat venue in Lancaster, Pa., where he was a full-time singer-performer.
Ricky joined St. John's Lutheran Church as the contemporary worship leader in 2021.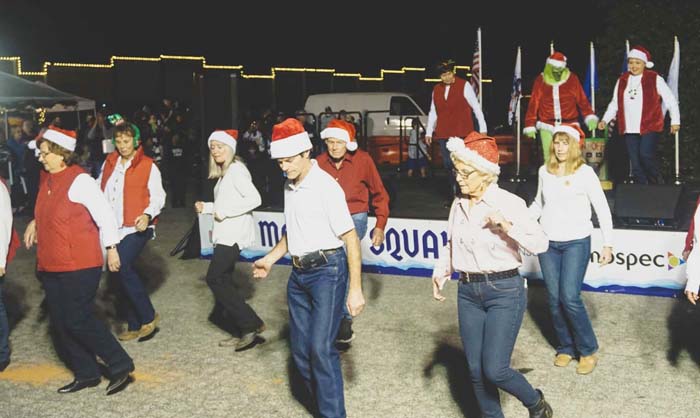 Rowdy Rowan
Dancing Wranglers
Under the direction of Reneé Collins.
This group is comprised of dancers with all levels of experience. Most have been dancing for many years.
They love all genres of music and enjoy performing for events.
Classes are on Thursday evenings at 6:30 pm. at the American Legion Post 342, 1024 Lincolnton Rd., Salisbury.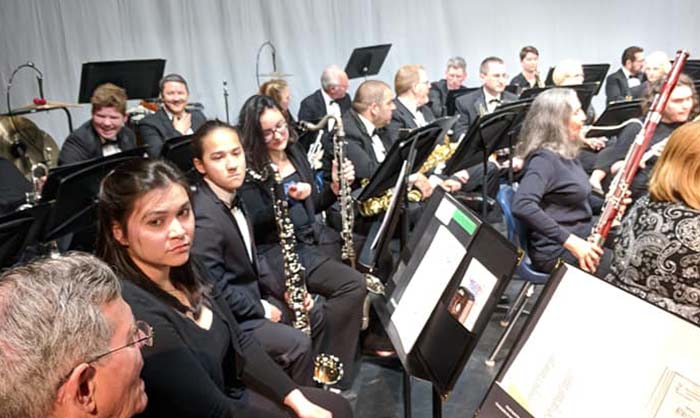 Piedmont Prime Time
Community Band
The region's premiere community band and the only adult concert band in the Charlotte area of NC.
The PPTCB is a performance oriented, non-profit 501c(3) organization comprised of volunteer musicians. Musicians range in age from high school students to silver seniors.
PPTCB's mission is to make ongoing instrumental music performance opportunities available to people of all ages who have previous experience in high school, college or other community organizations.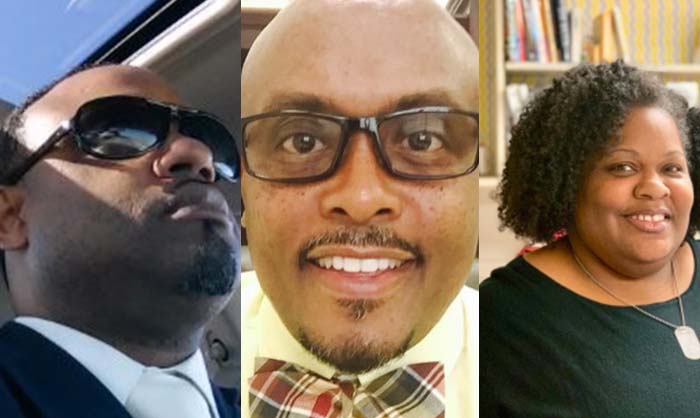 From schoolroom to stage, Alexis Cowan, Alexis Greer, and Adrian Smith perform together as the A Team.
Hold on to your seat as our hometown favorites belt out an unforgettable musical performance.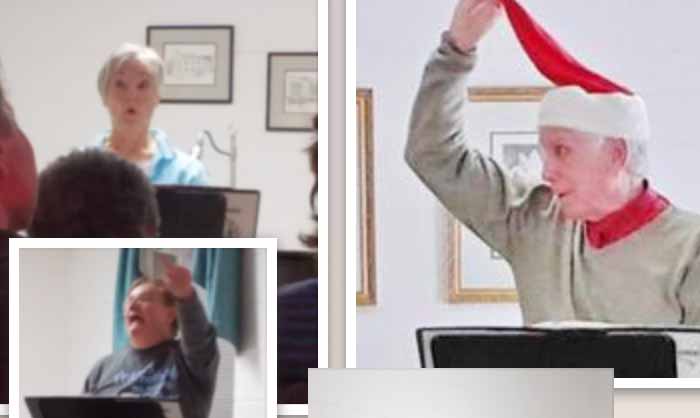 Phoenix Readers
Center for Faith & the Arts
A volunteer readers' theatre company comprised of individuals aged 55 and older.
Readers' theatre is often called "theatre of the mind," a medium in which performers conjure a rich, sensory experience for the audience. The acting style is a fusion of acting and reading.
The performance is primarily stationary, with readers seated on stools and scripts placed on lecterns. Physical movement is mostly suggested; scenery and costumes are only selectively implied.
www.faithart.org/phoenix-readers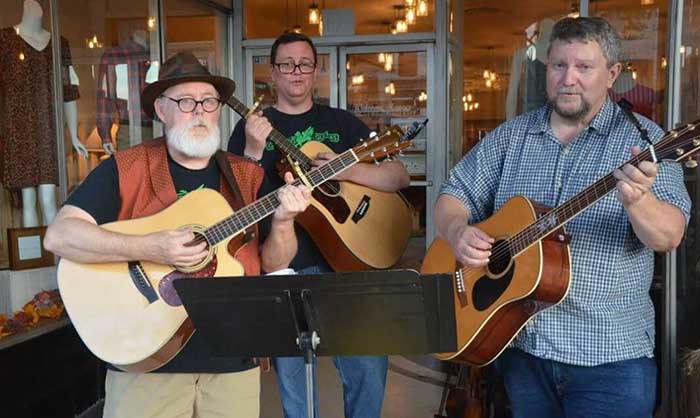 Middleshire performs a blend of cover tunes and originals in an indie folk style. Some of the songs they play are from other genres, but their arrangements cast them in an innovative light. They're available for a wide range of gigs including restaurants, pubs, coffee houses, private parties, and charity fundraisers.
Gary Combs - Vocals, Guitar, Mandolin, Fiddle
Darrell Brown - Vocals, Guitar
Jef Coburn - Vocals, Guitar, Pennywhistle, Percussion
www.middleshire.weebly.com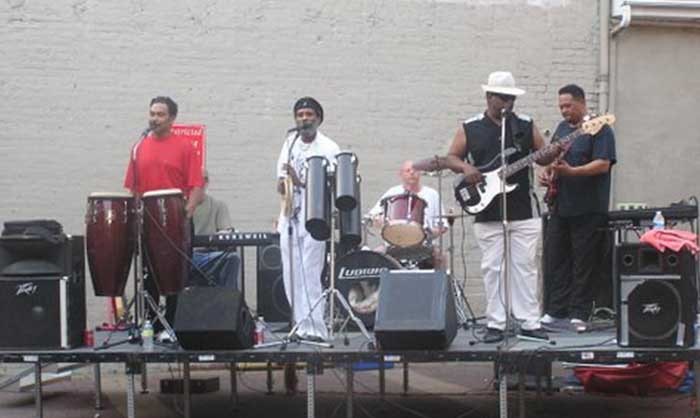 A hometown favorite and regional sensation, this band has something for everyone in a resonating mixture of Motown, Rhythm & Blues, Soul, Funk, '70s hits, and classic rock.
Members include: Gerald Knox, lead guitarist and bass vocalist; Roland Reid on guitar; Jerome Heggins on lead and backing vocals and percussion; Nate Thompson on lead and backing vocals, percussion; Alan Wyrick on guitar, keyboard and backing vocals; and Jimbo Martin on drums and backing vocals.

www.facebook.com/Divided-by-Four-Band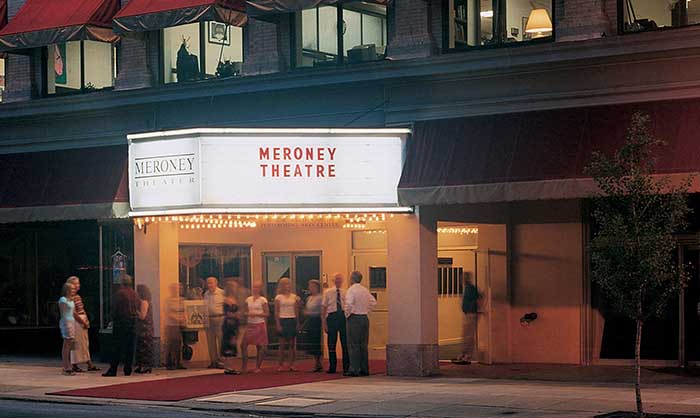 Piedmont Players Theatre is a non-profit organization established to entertain and educate its members and the public by the production and study of dramatic arts.
With the help of a tremendous amount of generous volunteers and donors, what started out in 1961 as an idea for a "little theater" has grown to become a Salisbury institution, recognized by the North Carolina Theatre Conference as The Outstanding Community Theatre in North Carolina. 62 years of community theatre.
www.piedmontplayers.com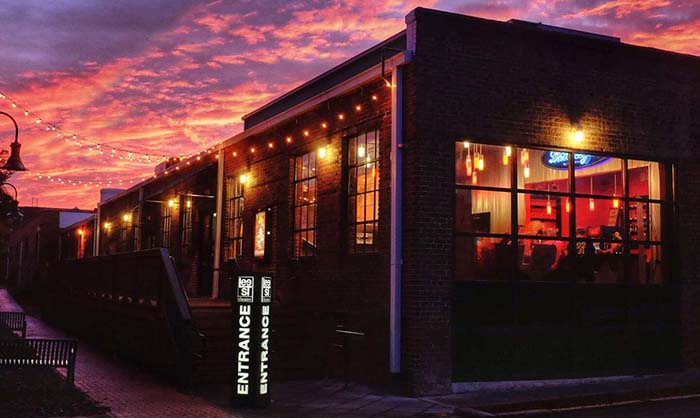 Lee Street Theatre is committed to fostering an inclusive environment for the development of original, challenging, and entertaining performance art.
Located at
329 N. Lee St Salisbury, NC 28144
www.leestreet.org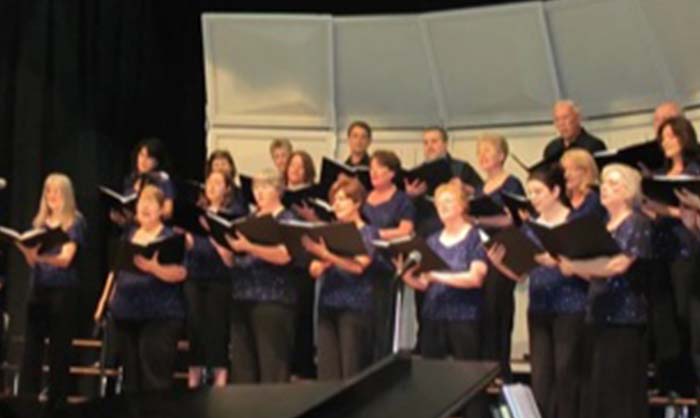 Salisbury Rowan
Choral Society
The Salisbury-Rowan Choral Society (SRCS) is a not-for-profit community choir located in Salisbury, NC with strong musical ties to Rowan County since 1910.
The singers come from all walks of life. Some have strong backgrounds in musical education, some just sing in their church choir. Not only do they hold concerts yearly, but also participate in many local charity events, parties, private functions and much more.
You just never know where you might find them next!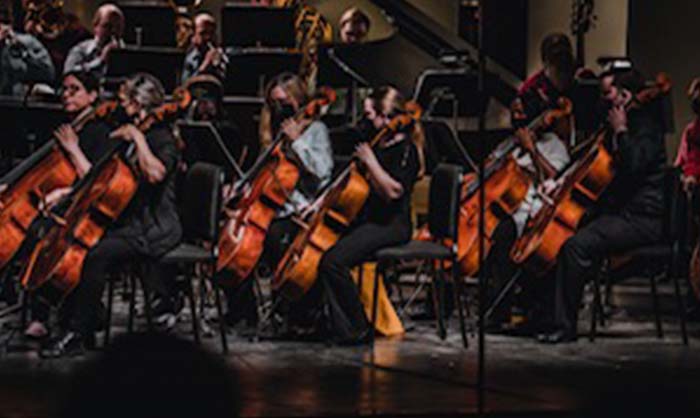 Salisbury Symphony
Brass Quintet
The Symphony performs a large variety of repertoire from early classical works to recent pops selections, often with guest soloists and performers of note from all over the world. The Symphony also sponsors music-related educational programs, small group instruction and summer camps for local school-age children.
Symphony Brass:
Trumpet Luke Boudreault
Mark Hibshman Horn Mary Boudreault
Tenor Trombone Seth Frack Bass Trombone Sean Devlin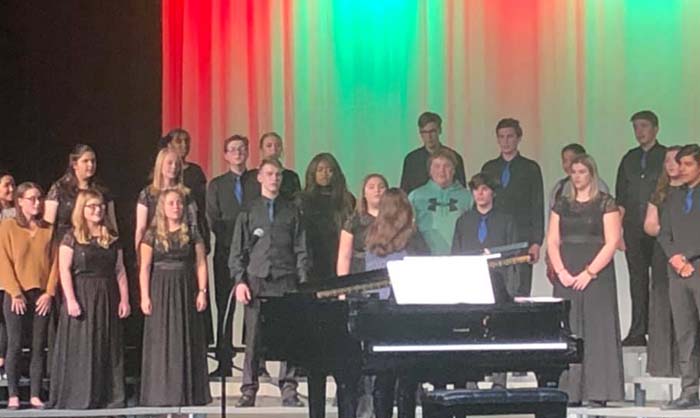 The Academy of the Arts at Carson is designed for students to find and develop their voices as artists. Offering pathways in fine and performing arts including dance, instrumental music, theatre, vocal music and visual arts, the passion to create is the common thread that ties our academy together.
In 2019, the Honors Chorus opened for the Rockettes at Radio City Music Hall in NYC and sang at the Lincoln Memorial and WWII Memorial in DC. Of course, many of them have graduated and a new group has stepped up to maintain the reputation of excellence.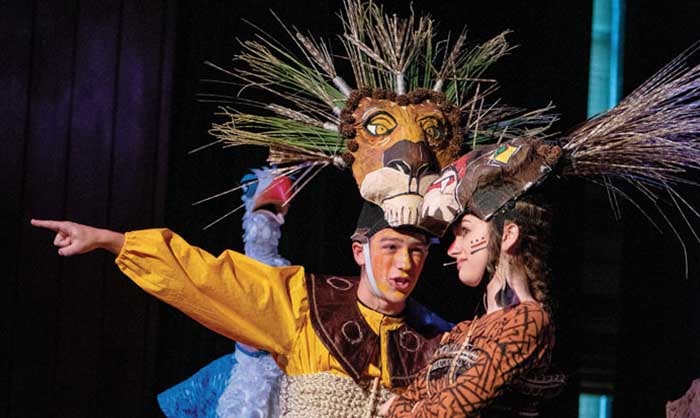 North Rowan High
Drama Students
The North Rowan High School Drama students have performed Aladdin, The Wiz, The Lion King and The Addams Family Values.
www.rssed.org/nrhs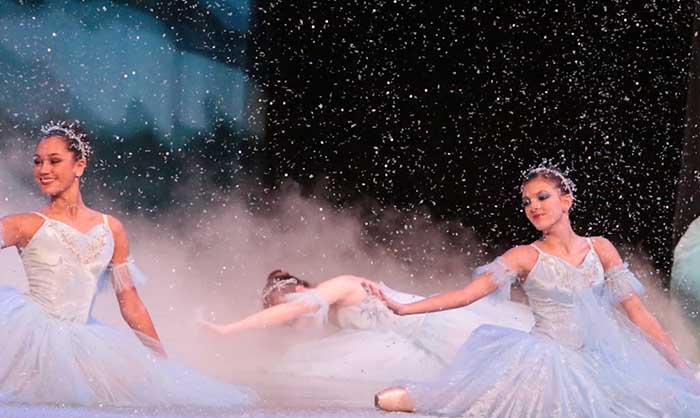 The Salisbury Dance Academy provides a nurturing, challenging, and educational environment for students. They are home of the Eastern Shore Ballet Theatre
and specialize in teaching Classical Ballet. Offering high level technical training, class offerings include options for the pre-professional student as well as recreational dance experiences. Classes include Classical Ballet, Pointe, Jazz, Tap, Hip-Hop, Modern, Lyrical, Musical Theater, and Progressing Ballet Technique® methodology. Several graduates of the Academy are currently pursuing professional careers in the performing arts.
www.salisburydanceacademy.com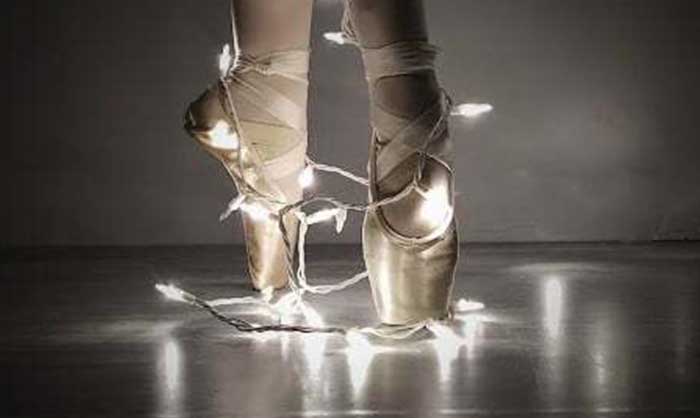 To the Pointe
Dance Company
It is the goal of To the Pointe Dance Company to teach quality dance and tumbling classes, in an encouraging environment, where students build self-esteem and develop their skills and talents. We want our students to be continually growing as dancers, attaining new skills in tumbling, always excited to be coming to class, and always expecting a positive experience.
A wide variety of classes are offered for students ages 3 and up, for the Beginner to the Advanced Student
Their performance for Winterfest includes a traditional German Dance.
www.2tpdc.com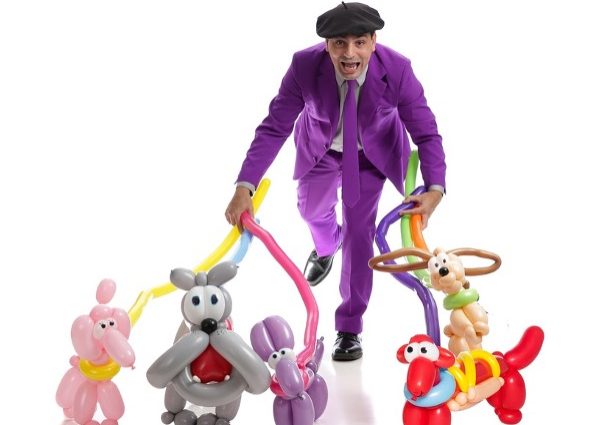 It all started one Christmas season when book entitled How to Make Balloon Cartoons was in his stocking. Exploring new balloon twisting techniques kept him intrigued for hours. One day his aunt took him to a baseball game and while others watched the game, he started making balloons. It was not long before a flood of children and adults asked him to make dogs, teddy bears, etc.
Since that day, he has made balloon twisting his professional career for over 20 years.
One of the most popular activities for kids during Winterfest.
Santa's Bakeshop at the Kids Korner will be buzzing with creativity as the little ones decorate their own Gingerbread house.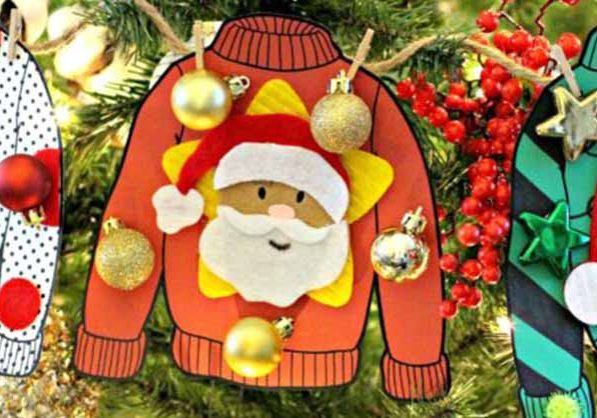 Our Crafty Crew will help you create an ugly sweater. Bring your own sweater or sweatshirt or choose from the limited number we have on hand.
And please join the Ugly Sweater Parade on the main stage.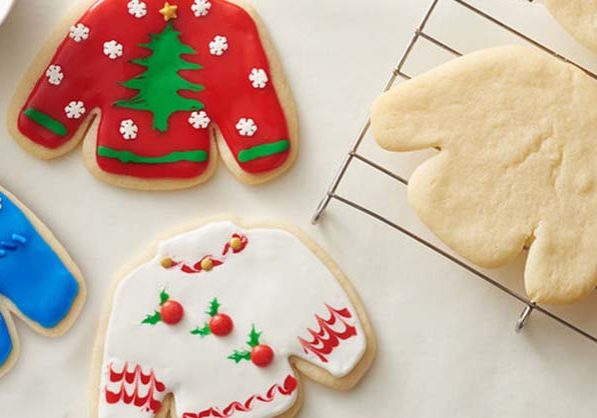 Decorate a Sweater
Cookie
Bring your little ones to decorate a Christmas cookie.
Icing, sprinkles and other decorations will be on hand for the kids to use.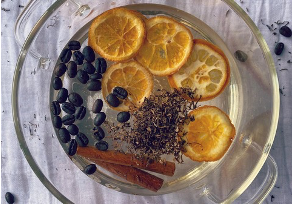 Our crafty elves have planned lots of fun crafts. Kids will make dazzling ornaments with jeweled stickers on snowmen and trees.
Various Christmas themed coloring sheets will also be available throughout the festival.
Whether throwing a snowball or ringing a bell, kids will have a blast in the Jingle Bell game tent.
Children of all ages are welcome to join us! They will receive a free entry stamp into the Games Tent.  At the end of the games, the child may choose a prize. (while supplies last, limit one prize per day per child).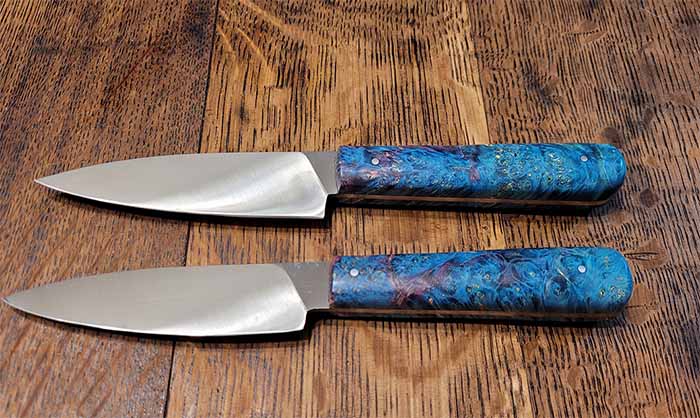 Welcome to Labrador Forge. This is a joint adventure between Chuck Payne and his 16yr old son Ethan.
Their knives are works of art, as well as, functional cutlery. They will be setup with some of their knives and other blacksmithing items for sell, like dinner bells. Chuck and Ethan will be doing live demos throughout the day at their Winterfest Market Tent.
Follow us on Facebook - Contact at 704-798-0386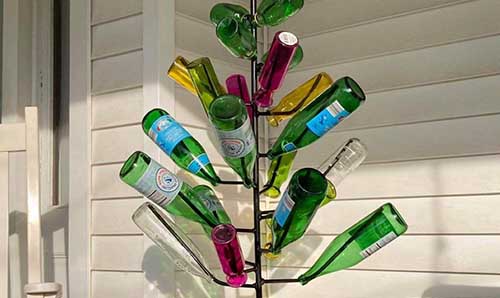 Steel Movements
Fabrication
Steel Movements Fabrication is the brainchild of local welder/fabricator Tony Deal and unique artist Brittany Deal. Born out of a love for art, welding and fabrication, Steel Movements offers a wide range of creations from the artistic to the practical. Most offerings are tailor-made to customer preferences and requests.
"The welding of metal is akin to sewing two fabrics together. There is a beauty and calmness in the movements of steel." www.facebook.com/steelmovements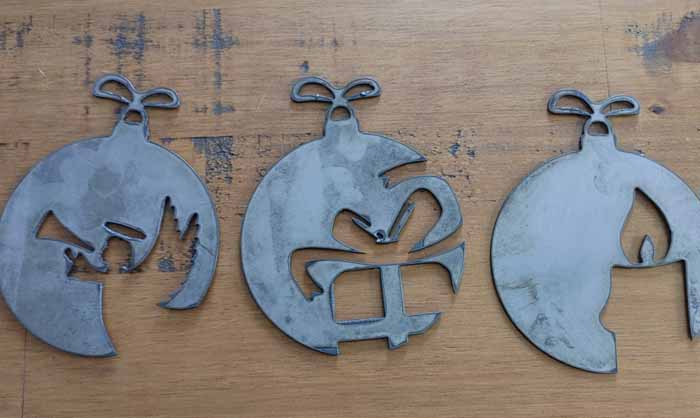 Wise Earth and Iron
Metal Fabricator
Wise Earth & Iron is a family owned and operated metal art company that specializes in custom metal art décor, furniture and signs. Each piece is handcrafted. 
In addition to Christmas ornaments and accessories, they create many designs with military themes.
www.facebook.com/wiseearthandiron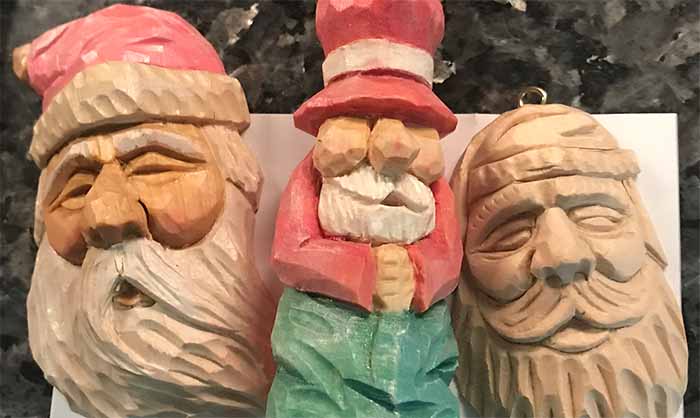 Davidson County
Wood Carvers
These woodcarvers create wonderful works of art. A nonprofit wood carving club for anyone who loves to carve, teach and have fun. They offer lessons for beginners and supple the wood blanks and carving tools.
Many of the members have been carving for 20 years and want to teach the next generation. Make sure you stop by and carve a while! Many of these amazing carvers are veterans which we Salute at Winterfest. 
Meetings are held every Monday, 7-9pm at Center Hill Baptist Church, Hwy 8 in Lexington, NC.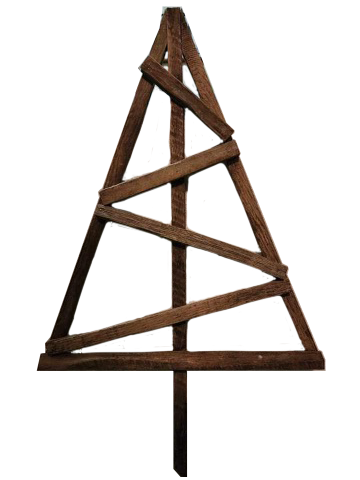 This artist is known by Sammy Harris to his fellow North Rowan High School peers.
Coming from Kodiak, Tennessee, this Smoky Mountain Artisan brings primitive/barnwood nativities, Tobacco Stick trees, Wooden Flags, and epoxy resin ornaments and coasters. 
Sammy Irvin Harris may be found on  Facebook
Available on Dec 1st and 2nd only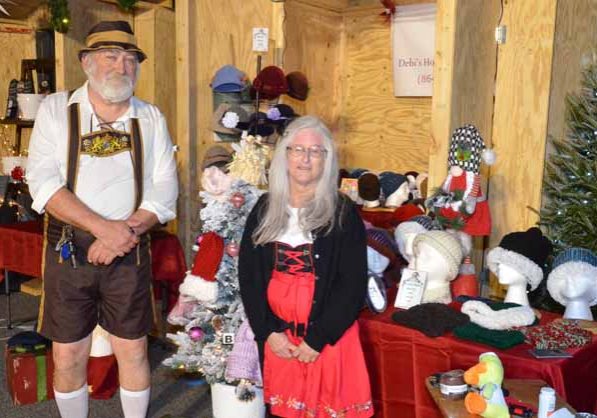 Debi's Homespun
Creations
Beautifully hand-crafted knit and felt hats, scarves, pins, and accessories from Debi Garret. Debi , a Spencer original. She creates these beautiful wool or acrylic hats and scarves with exquisite style and color. 
They are perfect for those cold, chilly days of Winter.  Debi's hats have been featured in boutiques in South Carolina and Asheville, North Carolina. She conducts workshops in hat making and felting near her home in Travelers Rest, SC. 
Follow at: facebook.com/heritagefarmandcrafts
Contact at pegarrt@aol.com or (864) 607-6021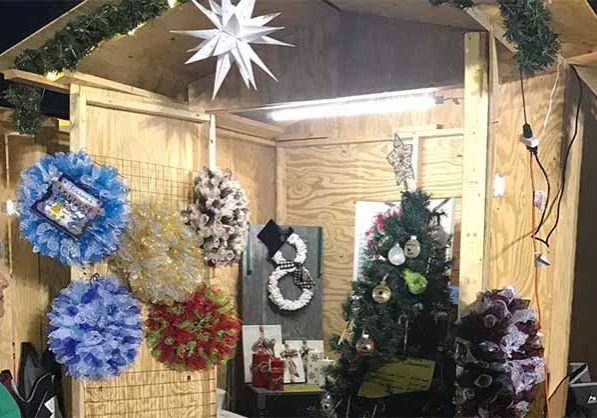 Wendy loves crafting, so come check out her assortment of German Themed Items, Wood Crafts, Jewelry, Homemade Extracts, Christmas Décor, handmade soaps and lotions. There is something for everyone!
Wendy C. Foster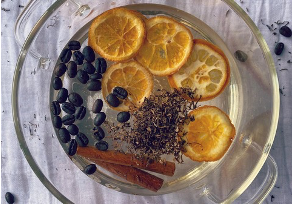 Beautiful crocheted "Stuffies". Sommer loves to crochet stuffed animals and other fun characters.  She loves doing local events and craft shows and you don't want to miss these adorable creations!
Sommer Medford may be found on Face Book and Instagram under the same business name.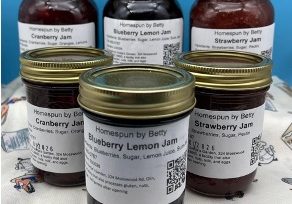 Culinary Chronomancer for all your home canning needs, get your Jam with personality! Try Homemade jams, jellies, and butters. Flavors include Peach Bourbon, Strawberry, Blueberry Lemon, Bourbon apple butter, and Margarita marmalade!
Betty Williams may be found on Facebook at Home Spun by Betty, and www.homespunbybetty.com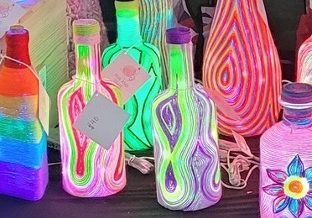 One-of-a-kind bottles wrapped in bright colorful yarn with fairy lights inside. These handmade originals will light up your room with unique art.
Kim Dart may be found on Facebook and  Instagram of the same business name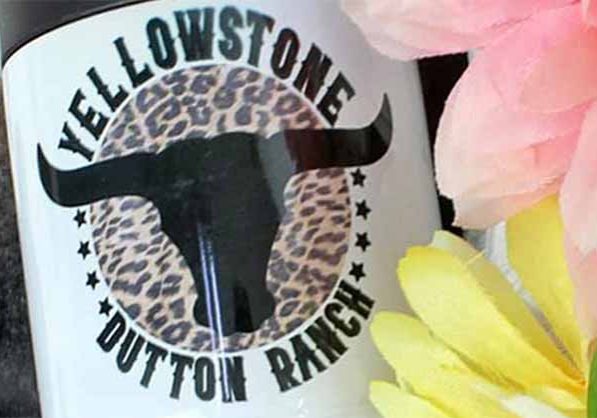 Morgan loves Western wear and offers Tumblers, Freshies, Shirts, Hoodies, and clay earrings. 
For those Yellowstone Fans, be sure to stop by and check out her creations!
Morgan Rogers may be found on Facebook and Instagram by the same business name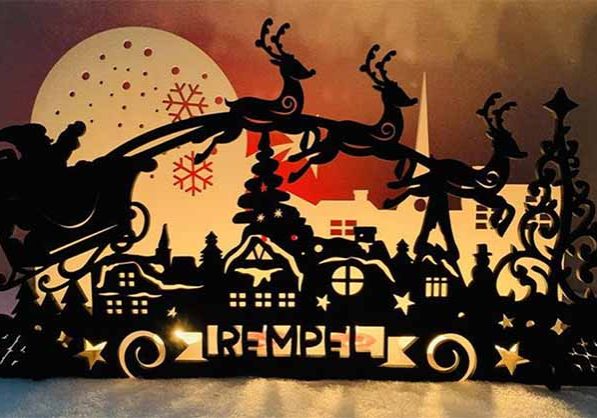 Returning to the Winterfest with more of their amazing gifts for everyone.  Be sure to stop in and look at their variety of handmade wooden nativities, Christmas count down calendars, book stands, phone stands, cutting boards, ornaments, and even Santa's  "Naughty or Nice" meters!
This is a proud Veteran-owned business. 
Suzy and Scott Bennett may be found on Facebook, Instagram, and their website: www.littlewiddler.com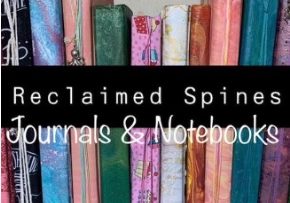 Amanda brings a unique approach to upcycling. For those that love Journaling, you will love her work and story. She takes unwanted books destined for the landfill and creates amazing one-of-a-kind journals! Personalized, no problem. She also uses curious decorative items in, and on, the Journals so an identical one is not possible. Would you love to have Reclaimed Spines lead a Journal Workshop for you/your group, make sure you mention it while shopping.
Amanda Ballew may be found on Facebook and Instagram -@ReclaimedSpinesAmanda
Available on Dec 8th and 9th only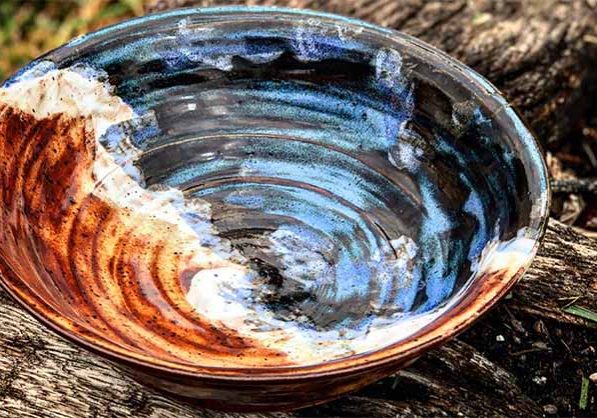 Shaped by Nature
Pottery & Wood
These Artists have been showcased in the Salisbury Magazine, Yadkin Valley Magazine and offer Handcrafted designs inspired by nature's beauty. They are not only very talented; they donate and support foundations supporting nature.
Heather and Chon Carlile may be found at
www.shaped-by-nature.com, Facebook, and Instagram as shapedbynature1
Hand made items for each and everyone, Kaitlyn creates adorable baby bows, bibs, clothes, and more.  She will bring a variety of Pet bandanas ranging from small to x-large. Come grab a  perfect bow or bandana for baby and fur baby!
Kaityln Hunsucker may be found on Facebook @southernstichstore2019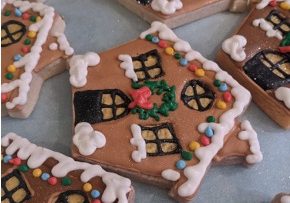 We lead our company with kindness, authenticity, and compassion, with a little bit of magic. We aim to bring a smile to your face, and we work many hours at the intricate craft that is royal icing decorating.
Food safety and quality is important to us - we possess a ServSafe certification, and heat seal all of our cookies for freshness.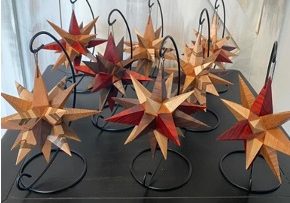 Wood Artist, Dale Davis, brings absolute beauty to wood through is hand carvings.  From and beautifully crafted Moravian star, to a sculpture created by a chainsaw, you will be amazed by his abilities. Make sure you check out his fine woodworking, carvings and hand made crafts. Each item is skillfully created and one-of-a-kind creations. 
Dale Davis may be found on Facebook and at Mission Pottery
Available on Dec 1st and 2nd only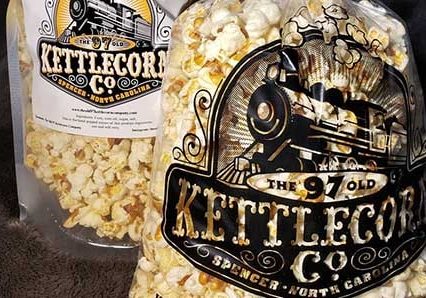 The Old 97
Kettlecorn Company
The Old 97 pops the most delicious all natural kettlecorn done the old fashion way. They offer classic and specialty flavors, including Cheerwine and Caramel.
The Old 97 Kettlecorn Company is a family run business out of Spencer that believes in bringing you the best quality kettle corn. They believe in giving back so they support Bread Riot and their mission to help local farmers and the community.
www.theold97kettlecorncompany.com
Laurie and Coleman Wilson  www.old97kettlecorn.com , Facebook, Yelp, Faire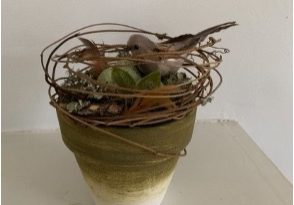 Meet Sharon Locklear, Graphic Designer and Artisan. Sharon loves to create using things from nature in her Home Décor. From Christmas trees, snowmen, arrangements, ornaments, and custom décor, you will love seeing all her creations and hopefully find a special gift for someone on your list!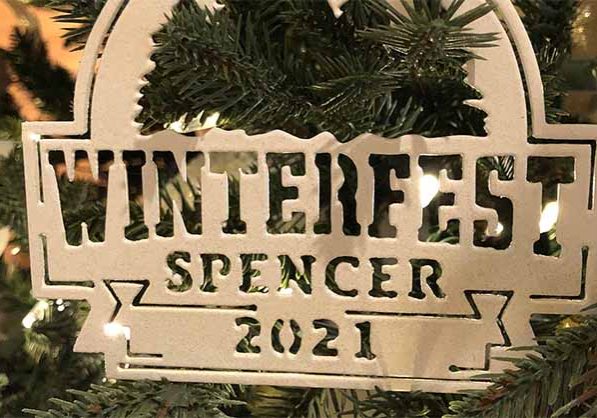 Keep your memories alive with special merchandise designed for Winterfest.
The featured product will be Glass Flasks, Pitchers and Suncatchers, created and handblown by Phil Gilson, one of the last colonial American-style glassblowers.
Ornaments from the 1st Annual Winterfest will also be available.
Proceeds go back into the Winterfest fund for next year.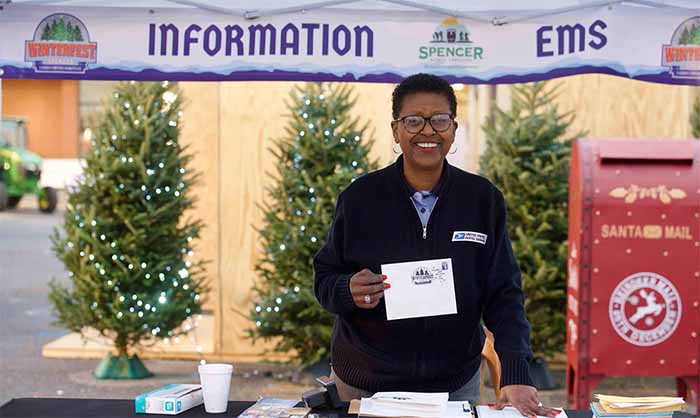 Winterfest
Pictorial Postmark
The Spencer Postal Service has a special type of Santa, one who handwrites an answer to letters that kids write to Santa. And USPS will be on hand to collect those letters.
Winterfest has its own special postmark, so bring your letters or Christmas cards to be hand stamped.
In 2021, the post office received multiple requests for envelopes bearing our stamp from out-of-state.
The Postal Service's history with letters to Santa dates back more than 100 years. Originally, all the letters to Santa were set aside, but post offices in 1912 were first authorized to open the letters and respond to them. Decades later, the program has expanded to become Operation Santa.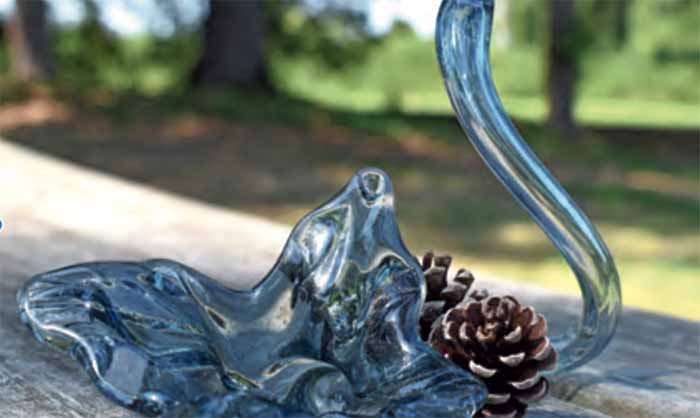 The Glass Factory
Phil Gilson, Glassblower
Gilson may be the last colonial American-style glassblower working full time in the traditions developed in the 18th Century. His craft is a passion and a family legacy since the 1730's. Phil produces designs for historic homes and museums. Many of his pieces use original molds and hand tools handed down for generations.
Gilson is the last of two known master chippers in the country. Chippers carve directly into cast- iron glass molds to re-create embossed bottles and flasks of the past.
Check out the pitchers, flasks and sun-catchers, custom-made for Winterfest.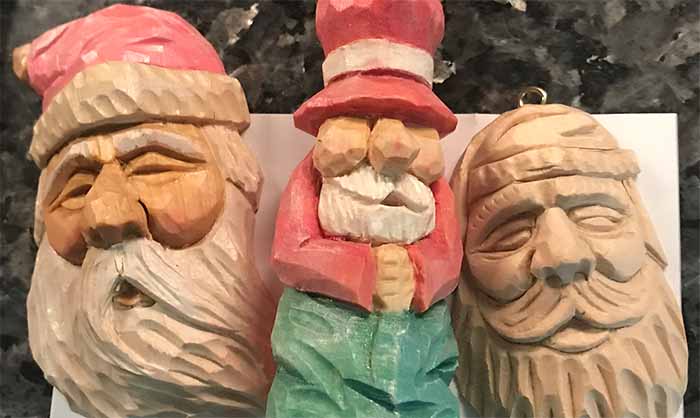 Davidson County
Wood Carvers
Watch as the woodcarvers create wonderful works of art. A nonprofit wood carving club for anyone who loves to carve, teach and have fun. They offer lessons for beginners and supply the wood blanks and carving tools.
Many of the members have been carving for 20 years and want to teach the next generation. And many of them are also veterans, which we Salute at Winterfest.
Meetings every Monday, 7-9 pm at Center Hill Baptist Church, Hwy 8 in Lexington, NC.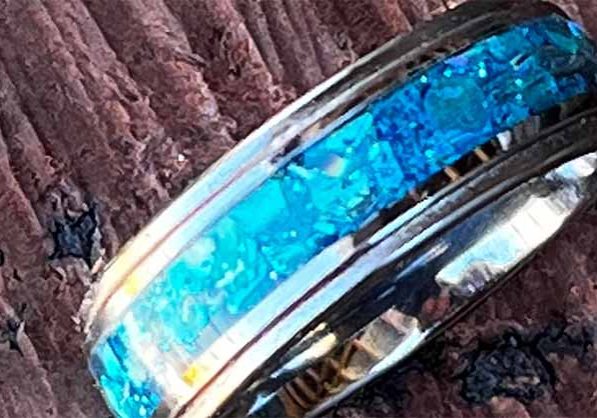 Chris & Carla's
Creations
Personalized items for everyone on your list.
Choose from Neon clocks, custom rings, stained glass, wooden ink pens. stainless steel tumblers, Porch leaners, etc.
For the sports fans, they even have corn hole boards for your favorite team.
In fact, they have so many products to choose from that they will be in two booths in the Indoor Market.
You may even know Carla from Carla's Picture Framing on 10th St. in Spencer.
Laurie Berrier Wood and Sherri Hall have been best friends for over 30 years. When they decided to start their company, they named it EvyLights, derived from the oldest granddaughters, Ivy and Eva.
They make seasonal melts, along with high end perfume/cologne dupes, candles, wicked and wickless, specialty candles like mugs and cereal bowls. Air freshener sachets and soaps.
They have over 400 fragrances in rotation, so you are guaranteed to find one you like.
May be found on Facebook as EvyLights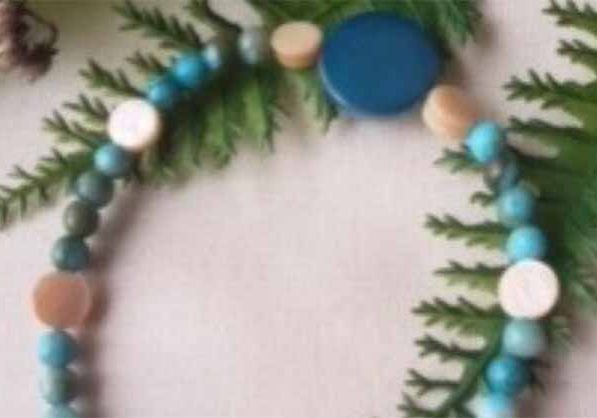 Handcrafted gemstone jewelry created by Melanie Schichtel in Morganton, NC.
Melanie is a landscape designer by day, and maker by night. As a landscape designer, she's constantly looking at plants. With each new season, comes a wave of colors that catches her eye.
"Using nature to inspire me and using natural stones and materials to bring new jewelry to life is extremely fulfilling. When I look at the flowers, the plants, the gemstones, the shells and pearls, I don't just see beauty; I see a creation from God, a perfectly designed piece of nature. That's why most of my supplies are as close to their natural forms as possible. I want my jewelry to be a reflection of the God who created those materials."
May be found on Facebook, Instagram, and Etsy at Gardens & Gemstones.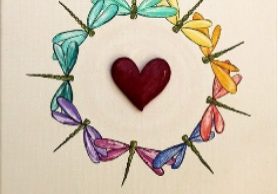 Maggie believes in Whimsy, magic, love, and possibilities. She is a self-taught Artist whose creations are a manifestation of Freedom, Flight, and Expansion with Acrylics and Mixed Media which she will showcase along with her hand painted ornaments.
Maggie Kerry Artworks is managed by Randy Plachy and may be found on Instagram @maggiekerry_artworks).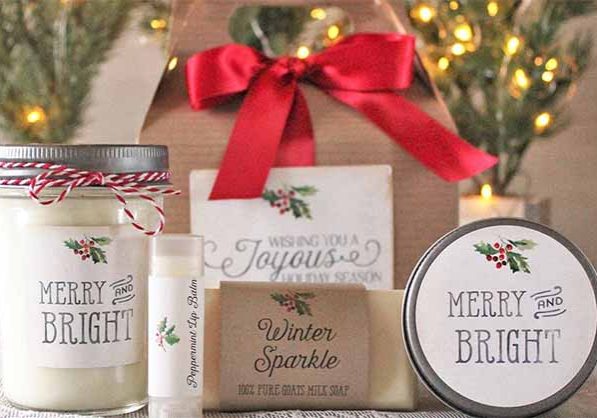 Samuel & Sarah, a husband - wife team works together to create Organic, non-toxic, health-enhancing products that you can trust and love! They use raw organic ingredients from nature.
They never use chemicals or artificial ingredients, and their products are cruelty-free. Their products are also handcrafted from scratch.
A percentage of EVERY sale goes to benefit families and individuals in need. It's not just a product - it's a cause.
May be found on Facebook and Instagram at Oil of Joy Apothecary or www.oilofjoyapothecary.com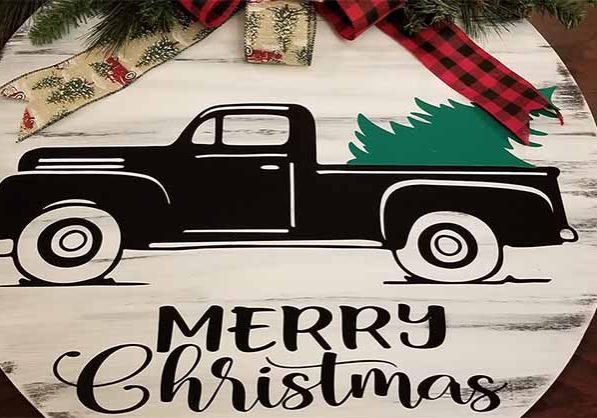 Specialty crafts--Stove Covers, Basket hangers, Blanket ladders Welcome signs, Potty boxes, Growth Rulers, Farmhouse signs, Decorative crosses and Christmas Ornaments.
Hand-painted wood products that add personality to your home or business. Add a bow or not, your choice.
For custom orders, text us:
336-267-7314.
Located in Trinity, NC.
Sue Brown may be found on Facebook at Simply Sue's Bowtique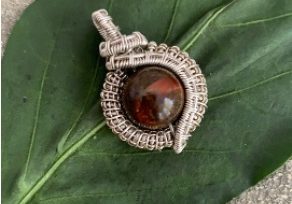 Janice Mcmanus creates wire wrapped jewelry including pendants, rings, and earrings.  She also creates knotted bracelets and necklaces. Impeccable quality and using natural gemstones and crystals is top priority.   
Janice McManus may be found       on Facebook, Instagram@stoneandhidejewelry, and www.stoneandhide.com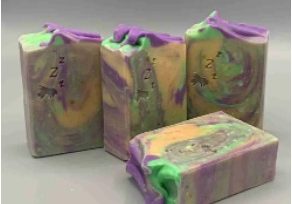 Sleepy Bee Worx believes in the power of natural, products and brings honey and infused honey, beeswax candles, salve, lip balms, and body butters all of which are handmade. Christina offers shampoo bars, bath bombs, and Artisan soaps.  She even has something for the furry friends. Try her dog shampoo bars and pad defense.  
Christina Zink may be found on Facebook( do not put LLC in search), Instagram.com/sleepybeeworx, and sleepybeeworx.com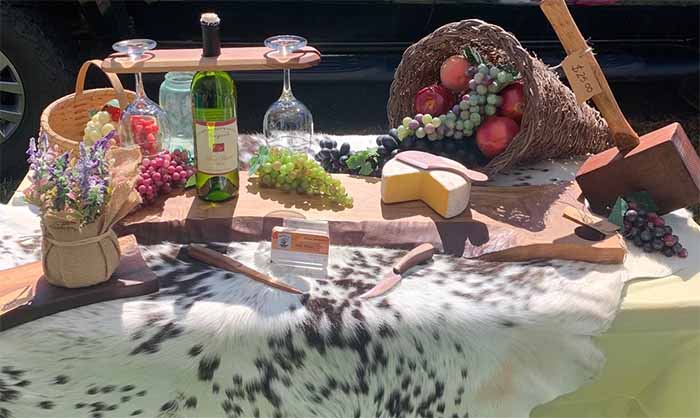 Handmade charcuterie boards, knives, coasters, bowls and more beautiful wood products for the home.
Keith Bruner has been woodworking and refinishing antiques for nearly 50 years. Originally out of the Appalachian mountains of Virginia, he moved to Davidson County about 35 years ago and stayed.
Taught by a few of the best woodworkers around, he says, "I love the look, the smell, the way wood feels in my hand."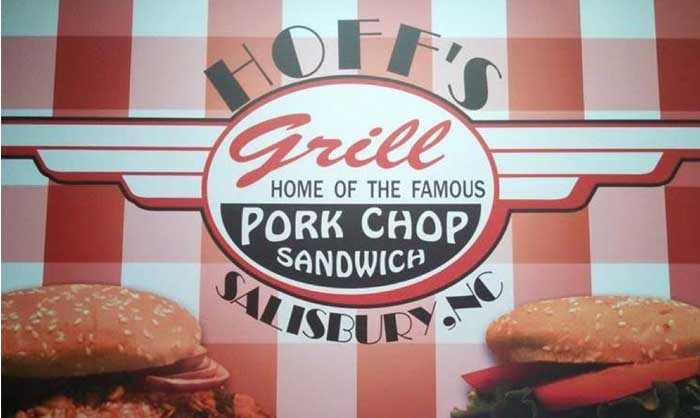 Hoff's Grill is the Home of the Famous Pork Chop sandwich.. If you are looking for all American food, this is the place. You will not go home hungry.
This year they are cooking Brats to give a nod to the Winterfest German Marketplace.
Locally owned by David & Jolene Houchins.
Located at
1621 W. Innes Street
Salisbury, NC 28144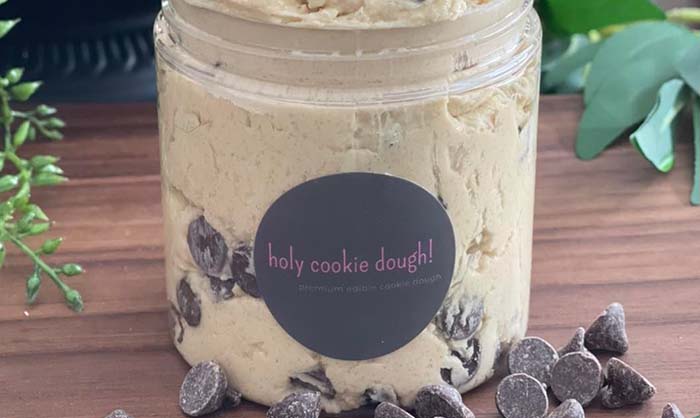 Premium edible cookie dough made with heat treated flour and is egg free making it 100% safe to eat straight out of the container.
Spending quality time together as a family is why Robert and his wife Melissa started a business with their eldest son Luke, wife Brea, and youngest son Matt, wife Destiny, in December 2020.
The Saul family joins forces twice a week to make and package the tasty product, which is sold from their food truck and by direct order.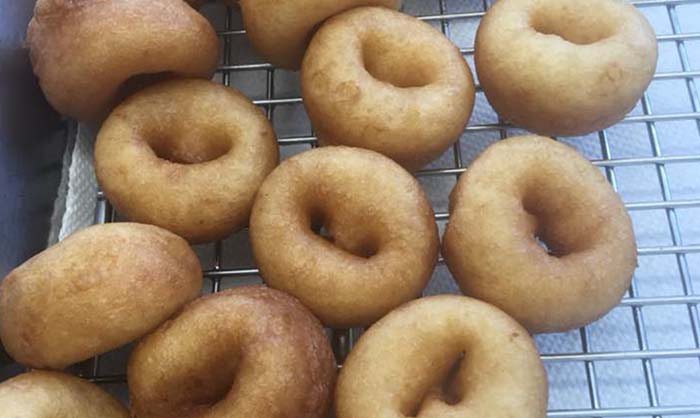 The business was started in 1990 by Donna Barnhardt.  After her death, the family decided to honor her memory by expanding the donut business that she loved, focusing on special events, festivals and fundraising.
Since 2009, Donna's children and grandchildren have been involved in making donuts. The company is still in the family and run as a small family business.  
"We all love what we do and enjoy bringing mini donuts to events around Cabarrus County." 
Stick it 2 you is dedicated to making delicious food on skewers,
They sell chicken kebabs, veggie kebabs, beef kebabs and more.
Contact them for catering all events, parties, weddings, pool parties and more.
Follow at
www.facebook.com/Stick-It-2-You-104731834601255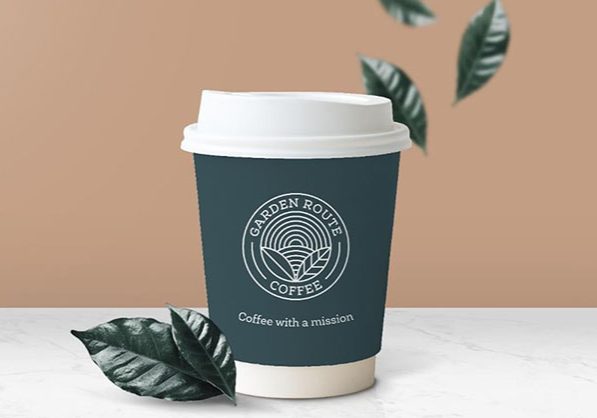 Garden Route Coffee
Coffee With a Mission
A local, family-owned business that has its roots in South Africa. The owners, Rod and Tina Poplin, served as missionaries along the Garden Route of South Africa for over eleven years. They fell in love with the local coffee culture and began to have an appreciation for quality coffee.
They truly desire to make a difference in their community and across the world. "Not only do we want to expose people to delicious coffee, but to also use it as a tool to build redemptive relationships with people." A portion of their proceeds go to help fund ministries for the people along the Garden Route.
Great coffee with a worthy mission!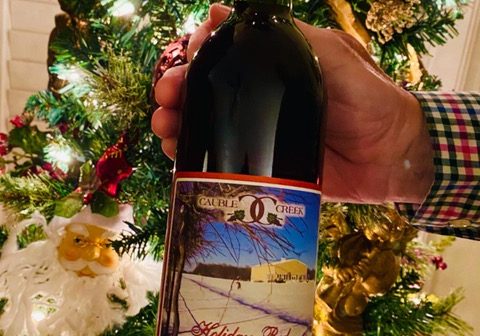 A local estate vineyard that specializes in Muscadine wines and offers a selection of Dry wines from North Carolina grown European varietals.
Their goal is to offer visitors to the vineyard a wonderful experience, quality food and wine products, while proudly promoting agritourism in our community of Salisbury and Rowan County.
New Sarum
Salisbury Brewing Co.
Born in the heart of Salisbury, New Sarum Brewing derives its name from the original settlement name of Salisbury's Sister City "Old Sarum" England.
The company is based on a basic principle, creating great craft beer. Each recipe begins with a study of an individual style of beer, searching history for proved and tested methods of creating the foundation. Full-body beers are created in a consistently high-quality standard that sets them apart from the competition.
Located at
109 N Lee Street
Salisbury, NC